Share this:
Это тот самый, Фил Донахью. И фильм он снял о "той самой войне в Ираке".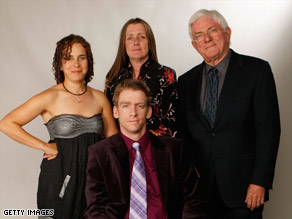 Фильм называется "Body of War". Фильм о парне, который сидит.

As director and producer of a riveting new documentary, "Body of War," Donahue makes an unorthodox tribute to America's veterans through the eyes of maimed Iraq War vet Tomas Young, who is now an antiwar crusader. Young caught a bullet near his collarbone less than a week after arriving in Iraq, leaving him paralyzed from the chest down and burdened with grisly side effects. Donahue spares us none of his pain, or his outrage: shots of Young feebly using a catheter are intercut with the tally of the Senate vote for the war resolution and a clip of President Bush poking fun at the lack of WMDs in a gag-filled White House Correspondents' Dinner speech.