Share this:
Двадцать второго марта в соседнем с нами штате Вашингтон (WA) грязевой поток практически смел с лица земли целый поселок.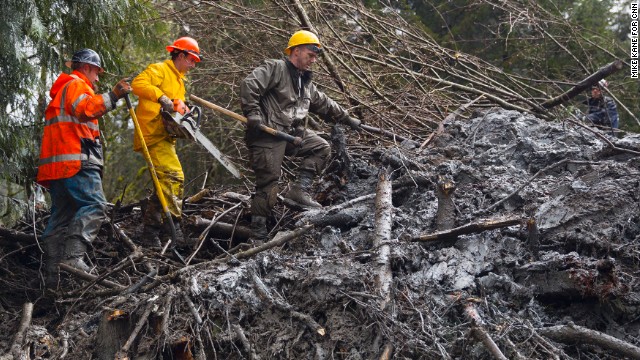 Поиски, однако, продлжаются и по сей день. Точной цифры погибших и пропавших без вести нет до сих пор, потому что люди продолжают поиски и, значит, продолжают надеяться.
Однако, картинки с места происшествия не для слабонервных.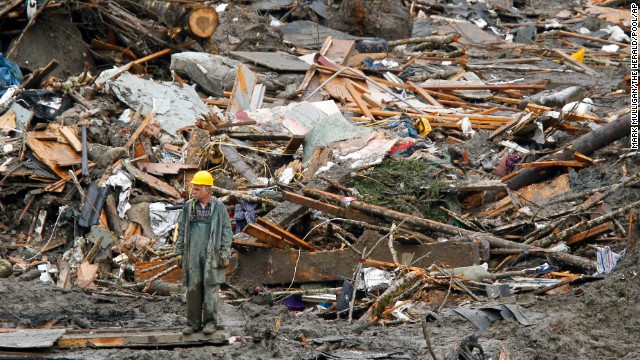 По последним данным среди погибших 21 человек. 30 человек продолжают числится среди "пропавших без вести".
Darrington, Washington (CNN) — Pastor Gary Ray stood before his congregation Sunday, prepared for people to shake their fists at God. Such reactions in the only church in Oso, Washington, would have been entirely appropriate.
After all, it was in this rural community — between Arlington and Darrington, along State Route 530 — that a mudslide last weekend ravaged the landscape, swallowing homes, killing at least 21 and leaving 30 still missing. Not a soul in the room, where the pastor guessed 115 gathered, had gone untouched by the horror that rocked their quiet world.
Instead, amid the fear, the unknown and the hurt, the pastor of Oso Community Chapel was surprised by what people shared.
"I was expecting someone to say, 'I lost my brother or I lost my house and I'm angry' — and that would have been OK," he said by phone Sunday. "But today what we heard was, 'I was in trouble and a stranger stopped and helped me.'"
That looking out for each other, the coming together, is just one example of the good that can appear around the corner when tragedy strikes, he said.
"People say in times of disaster, it brings out the best and the worst in people. But I'm just seeing the best," he said. "I'm seeing patience and sacrifice. Character is being developed. I don't know what the future holds, but I do hope for some unexpected blessings."
He's not alone.
"We are hoping for a miracle," Washington Gov. Jay Inslee told CNN's "State of the Union." "We are going to do everything we can to look for that miracle and care for these (affected) families."
The number of people unaccounted for after the March 22 landslide dropped Saturday to 30 from 90, officials said. In addition to the 21 confirmed fatalities, another four bodies have been discovered in the debris field, Jason Biermann, a program manager for the Snohomish County Department of Emergency Management, said Sunday evening at a news conference.